Welcome to the hidden beach paradise in Kantabogon, Aloguinsan, Cebu!
Let the Adventure begin!
A small coastal secluded area facing the serene Tañon Strait which separates the islands of Cebu and Negros. Named as Hermit's Cove because according to locals, a hermit who used to live here a hundred years ago, survived living in this area since it is rich with natural resources (sea and mountains).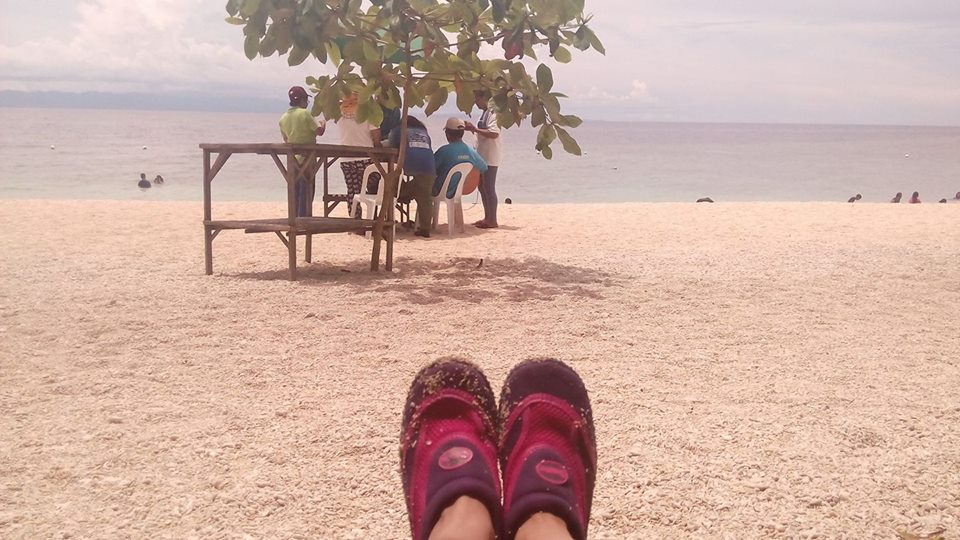 How to get there
Go to South Terminal in Cebu City.
Ride the bus going to Aloguinsan (fare is around P60 to P100, depends on the type of bus). Travel time is 2 hours from the City.
Since there are no food in Hermit's Cove, you need to drop by at the market of Aloguinsan to buy ready to eat foods or you can bring your own.
At the market, ride a "habal-habal" or motorcycle to Hermit's Cove (fare is around P60 per head).
When you reached Hermit's Cove you need to listen to a brief orientation about the place and its culture then you need to pay the entrance fee of P100.
Going back, you need to ride another habal-habal from Hermit's to Pinamungajan (fee is P200 per head).
Then from Pinamungajan, ride a bus going back to Cebu (fare is P80).
Habal-habal can accommodate up to 2 people.
Going to the place, you will pass by Bojo River (there is a river cruise and another tourist spot as well). Do not expect to be a smooth road from Aloguinsan proper to Hermit's Cove because it was really treacherous but you will pass by different views of the mountainous area of Aloguinsan.
Since there is no store/eatery in the area, I suggest to buy everything that you need in the market which includes eating utensils.
Things to do
Snorkeling – P50 – P100 rental of snorkel/goggles
Boating – P100 – you can just inquire and try to name your price with the boat man.
Swimming to their blue-green water beaches.
If you are a coconut lover, there's a lot here. You can order a fresh coconut juice from coconut tree as much as you want for only P25.
Swimming gears were available for rent in the area for just a minimal price.
If you still have enough time and money, you can rent a boat and tour the fascinating Bojo River.
When you reached the place, you will be welcomed with a folk dance presentation by the katutubo living there that will teach you on how to make their own delicacy (puto).
This is a great weekend escape that would reconnect you to the nature with all coconut trees all over the place. It is best for friends and families who want to have an enjoyable weekend. Take note that there is no room/accommodation there. Entrance to the beach will close at 5:00PM.
Side Trip: Bojo River
There is a River Cruise that will take you around 3 hours to complete the tour and it cost for only P400 per person. This is one of the most popular attractions in Aloguinsan. Cruise is scheduled daily but it also depends on the tide of the river.  A great view of mangroves and rock formations will amaze you during the tour.
Useful Links:
You can check the updated rates and availability for your accommodation (just search for Aloguinsan Cebu) here:
www.agoda.com
www.tripadvisor.com.ph
www.booking.com