VISIT SINGAPORE
Singapore is famous for its best airport in the world and I agree with that. I arrived at Singapore Changi Airport Terminal 4 around 12 midnight. There were no more bus and MRT (going to City Center is already closed) so I waited for the next day at the airport. I had my money exchanged first and it is just inside the airport (Arrival Area). They have 3 hours of free wifi for tourists (just present your passport to the customer service booth or scan it to the automatic machine) and there is a charging station as well with enough outlets for me to charge my gadgets (since I only have cellphone and camera). One most important thing is their big couches that I can use for sleeping and it is really comfortable. All of these are free as well.
When morning came, I headed directly to the City center particularly to Golden Mile Complex because my schedule for that day was to visit Malaysia (by bus). So, I will start my Singapore journey from the moment I came back from my Malaysia trip.
So come, let us explore the beauty of Singapore for 3 Days and 3 Nights!
Things to do:
Visit the astounding Supertrees at Gardens by the Bay
Explore the futuristic botanical garden, Supertree Grove, OCBC Skyway and Cloud Forest. All can be found here.  Gardens by the Bay is an independent organisation with team of professionals that care the environment and preserve the green culture of Singapore. As per say, they have an in-house team of skilled landscape designers and horticulturists.
It has the largest Glass Greenhouse (Flower Dome) inside the Garden. Trivia: Every night (around 8:00-9:00PM) they have a majestic show or what we call Symphony of Supertrees. It was such an spectacular event for me. Never miss this one if you are visiting Gardens by the Bay. I went there at night and I went back again the next morning because I really love this place.
Helix Bridge
This is just a bridge connecting Merlion Park and Marina Bay Sands. What's more interesting in this bridge is its form – Helix that is like our own DNA in our body.  According to my research, it is their intention to have this kind of shape. At night, the bridge will be lit up with pairs of coloured letters c, g and a, t in red and green and it is the representation of the four bases of our DNA (cytosine, guanine, adenine, and thymine).
Merlion Park
You're not in Singapore if you haven't seen any Merlions (a total of three of them if I am not mistaken). Merlion park is one major tourist attraction in Singapore. You can reach its place from Clark Quay (just a walk) or you can ride the MRT/bus. It is also near to Marina Bay Sands (just cross the famous Helix Bridge). Myth: It's a half fish, half lion. The body symbolises Singapore's humble beginnings as a fishing village when it was called Temasek, meaning 'sea town' in Old Javanese. Its head represents Singapore's original name, Singapura, or 'lion city' in Malay. Today, you can glimpse this legend at Merlion Park. Spouting water from its mouth, the Merlion statue stands tall at 8.6 metres and weighs 70 tonnes. This icon is a 'must-see' for tourists visiting Singapore, similar to other significant landmarks around the world. Built by local craftsman Lim Nang Seng, it was unveiled on 15 September 1972 by then Prime Minister Lee Kuan Yew at the mouth of the Singapore River, to welcome all visitors to Singapore (source from visit singapore page). From here, you can go to the nearby tourists attractions: Marina Bay Sands, Gardens by the Bay, Singapore Flyer by crossing the Helix Bridge. Raffles Hotel and Clark Quay is also nearby and you can dine at Lau Pa Sat (famous Hawker Center with its best Satay for a cheaper price).
Jurong Lake Gardens
Also known as Chinese Garden is just an MRT away. Chinese culture and traditions can be seen here with its high pagodas and statues of Chinese philosophers like Confucius. Location: Jurong East, Singapore and if you are coming via MRT, just take the Yellow Line or Circle Line to Chinese Garden.
Sentosa Island
https://flic.kr/p/2ahDgwN Who will forget the famous man-made Island in Singapore? Sentosa Island has lots of activities to offer: beaches, mall, theme park, foods, among others. This Island is connected to the City by road, cable car, boardwalk and monorail. To have a fun experience, I went there using cable car. I purchased the tickets ahead of time at Klook to save more. Yes, there are a lot of options to reach this place. Another Merlion can be found here: The Sentosa Merlion.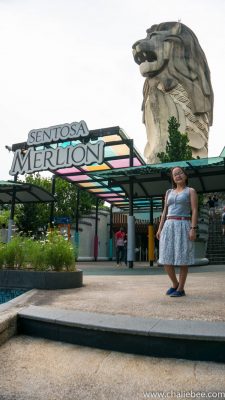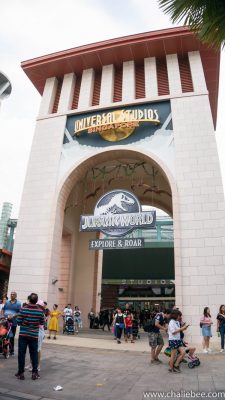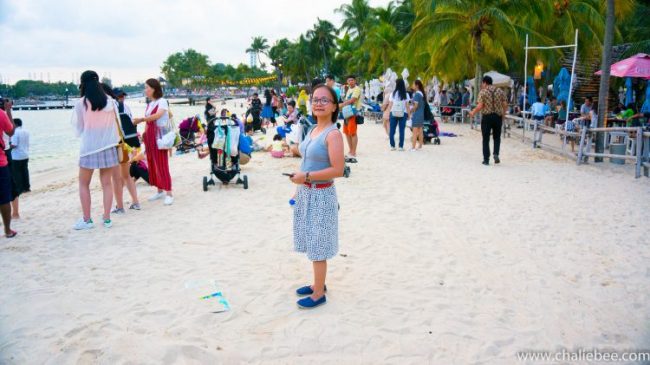 It is very easy to commute in Singapore. MRTs are connected to all major tourist spots and stop over. Like for example, my cheap hostel G4 Station Backpackers Hostel is located near Little India MRT. So I am using the MRT in commuting since it is very near and I just walk to Little India (Mustafa Center and Sri Veeramakaliamman Temple – famous Hindu Temple in SG).
Haji Lane and Masjid Sultan (Arab Street)
https://flic.kr/p/NQiDJf This is a famous Mosque located at Muscat Street in Rochor, Singapore. It is considered as one of the most important mosques in Singapore. It is the most fundamental structure among Muslim community in the country. Since they are very open-minded, this place is open for Tourists. When I went there, I was amazed (and it was my first time) to see a couple shooting their prenup shots outside the Mosque. It was so obvious that they are Muslim couple because they were wearing Hijab and Muhaajaba (for women).
Vintage Camera Museum
https://flic.kr/p/NQiE93 If you are fan of cameras, you should never miss out this place. It is just a few blocks away from Masjid Sulltan/Haji Lane. There is a minimal amount entrance fee of S$20 but since I was on a budget, I did not go inside then. I just took some shots outside because of its astonishing structure. https://flic.kr/p/Md1Q14 This museum was founded by Solaiyappan Ramanathan and his artist cousin AP Shreethar. It is a museum of collective cameras (over a thousand of them).  According to my research, the guests can handle (on-hand) experience of different vintage cameras inside the museum. So, if you are a photography enthusiasts, never miss this place! Location: 8c, 8D Jalan Kledek, Singapore 199264 (MRT: Bugis 5 minute walk)
Clark Quay
https://flic.kr/p/29zFV9g Clark Quay is located just within the Singapore river and Boat Quay. A lot of tourists will visit this place because of its refreshing ambiance and food trips. There are a lot of restaurants and beautiful scenery here. You can just walk if you want to visit Raffles Hotel, Merlion Park and/or Marina Bay Sands. Though it was a long walk, it was all worth it. You can exercise and at the same time, you can explore the different side of Singapore. It was one Saturday morning when I walk from Clark Quay MRT station to Gardens By the Bay (passed by the famous bridge along Boat Quay, Raffles Hotel, Merlion Park and Helix Bridge). While I am walking, I also took beautiful scenery shots along the way. Location: 3 River Valley Rd, Singapore (MRT: Boat Quay)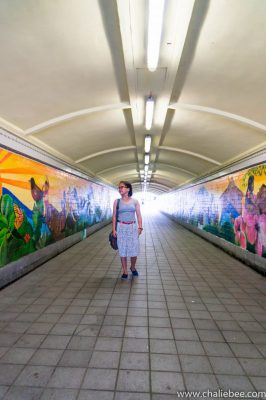 Botanic Garden
https://flic.kr/p/MdfFei  This is a UNESCO World Heritage Site in 2015. Great time to visit this is during day time (early morning). You can bring your yoga mat and join a group of people. You can also jog, walk or just simply connect to nature. This is such a relaxing place after all the hassle of our busy schedules. You can explore different kinds of plants here (orchids, trees and other herbal plants). Activities: – Go on a walking trail – YOGA – Free guided walks. Just make sure to catch the time of different walking tours. – There is also an Orchid Garden Tour (part of walking tours) Location: 1 Cluny Rd, Singapore (reachable via MRT in Circle Line) https://flic.kr/p/28djs2m   Since all of these places are free of charge/no entrance fees, my only expense for my City Tour was food and transportation (I loaded the MRT EZ Link Card that I had borrowed from a friend for P500.00 in my entire trip). Indeed, God blessed me so much because I only got my airfare ticket for only P2,200 (roundtrip ticket from Cebu Pacific). If you need a customize itinerary, I will post it soon. "Your word is a lamp to my feet and a light to my path." – Psalm 19:105 https://flic.kr/p/29SuWHs