Just last week of February, my 2 aunts and I had an amazing and unforgettable winter vacation. It was our very first winter vacation and out of the country together. It was unplanned for me but it was God's plan (I believe). So, the moment we filed for our visa and all other travel documents for the trip, we know that everything is God's plan.




Our trip went smoothly though it was delayed for our planned date. As a typical Filipino, we really dreamed of "white Christmas" or winter vacation. Though it was very late for our white Christmas, we're glad that we still able to achieve our Winter Vacation. Let me share these 15 Winter Tourist Attractions in South Korea for the month of February (late winter). Actually, the week that we were there was the last week of Winter and last week for Ski resort to accept guests (as what our guides told us). Thank God we were able to experience winter activities.
1) Petite France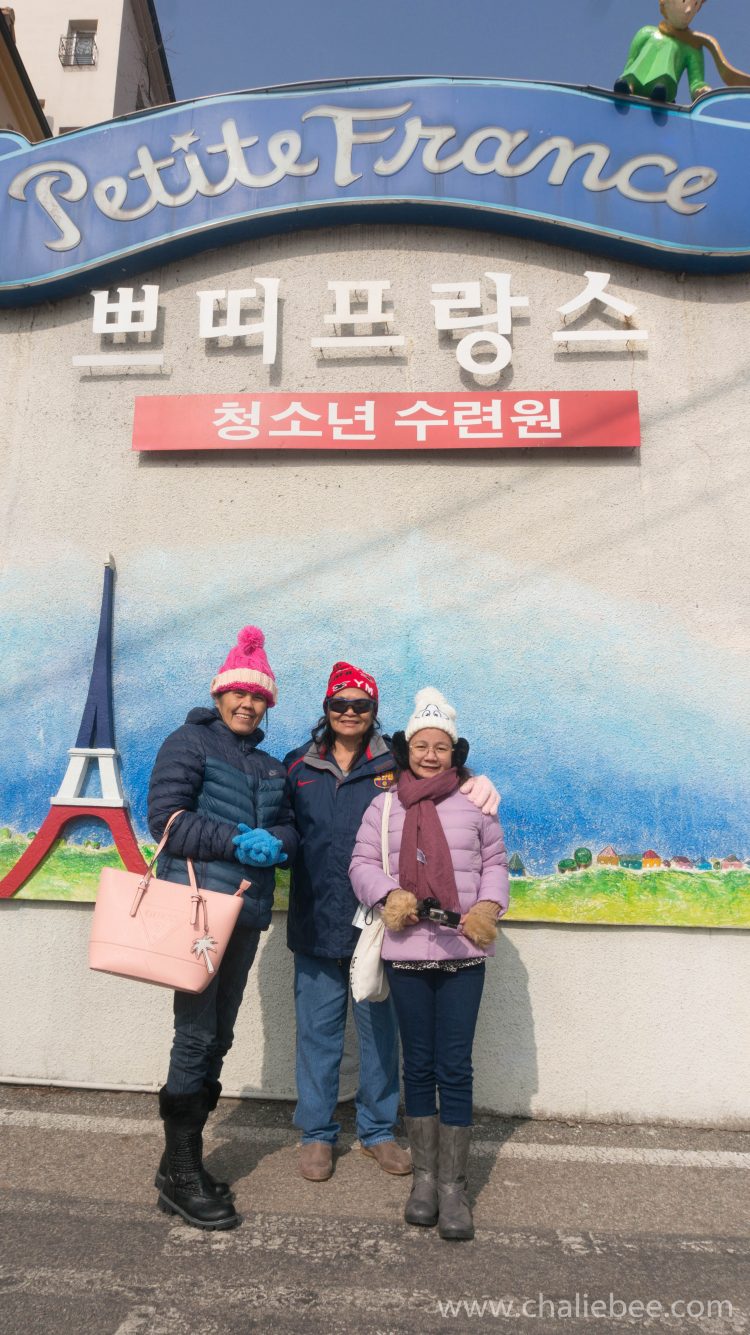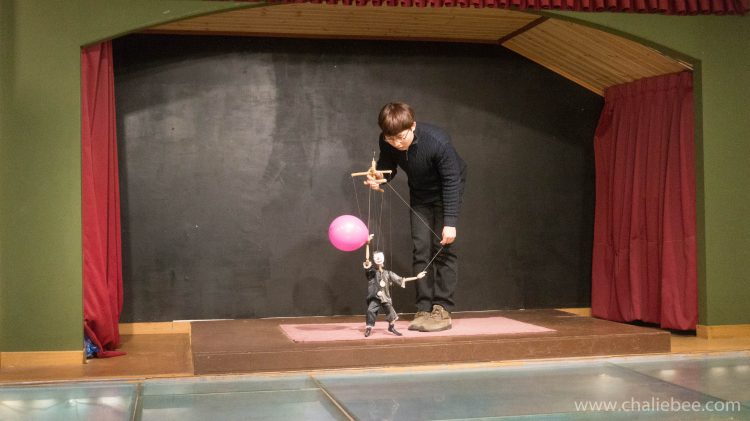 Petite France is a great location to visit during winter. It was here wherein I enjoyed the view (overlooking the river, mountain and more activities to enjoy). They do have great shows from time to time. It depends on what time you will visit the place. The time we arrived there was around 10:45am exact time for their 11:00am puppet show. So, we were able to enjoy the amazing puppet show (plus it was my first time to witness a puppet show live).
The concept of Petite France is a European village. Though this is not a residential area but you can check more European houses design here. This is the film location of Beethoven Virus, My Love from the Stars, Secret Garden and the latest one is Running Man.
The design incorporates the European houses, flowers, and the very famous Little Prince. Inside a house (where there is a puppet show) is a doll collection. There is also an observatory and a rooftop restaurant/cafe where you can enjoy the view of the river and mountain.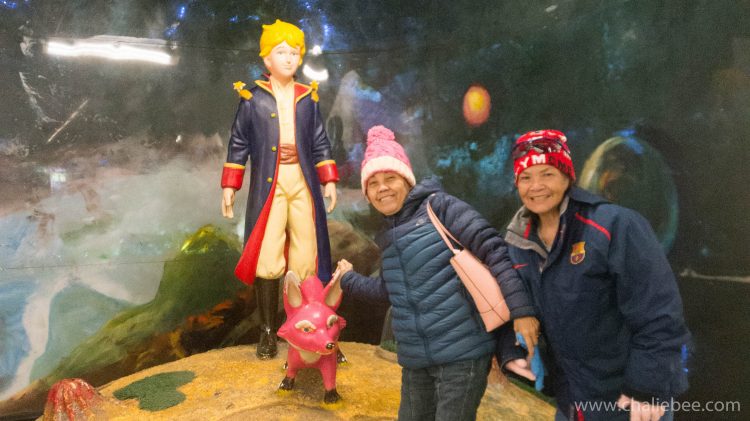 When we visited the place, it was really cold (of course it was still winter). The temperature that time was 0 to 3 degree celsius so it was really great to see the mountain and river together on a winter day. During this time, when I look at the mountain, there were some snow and it was my first time to see the snow (some on the ground, on the mountain and even the frozen river). The most enjoyable part here was to watch the puppet show which happens everyday at 11am.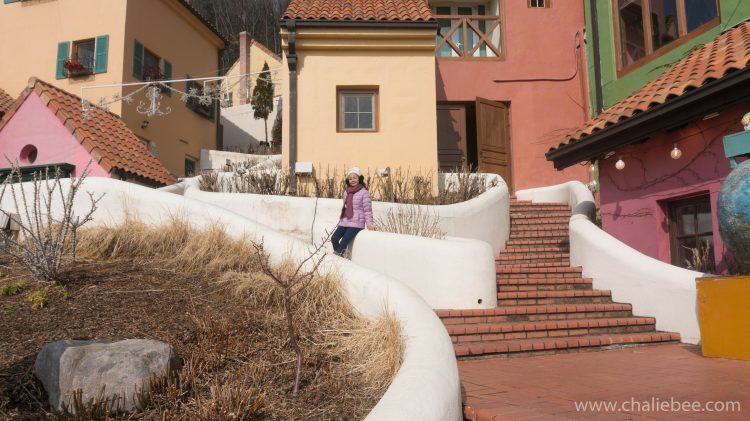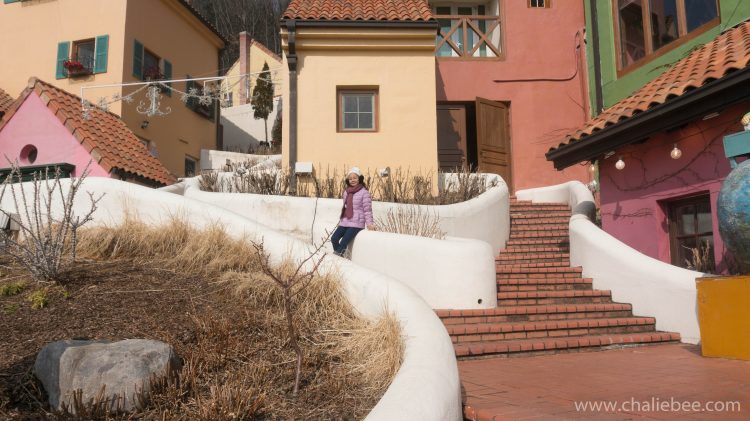 2) Nami Island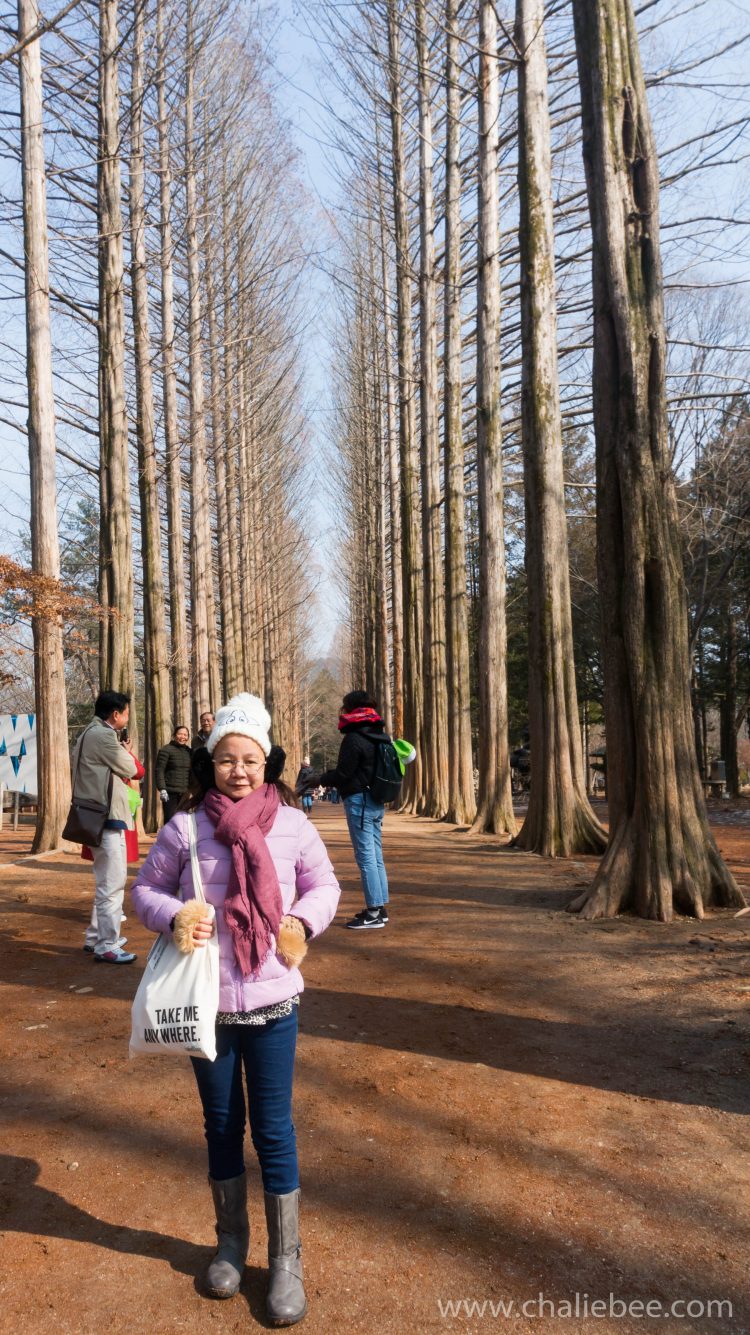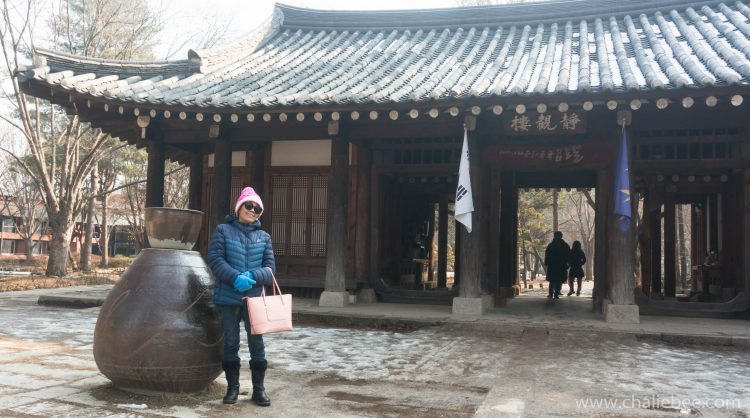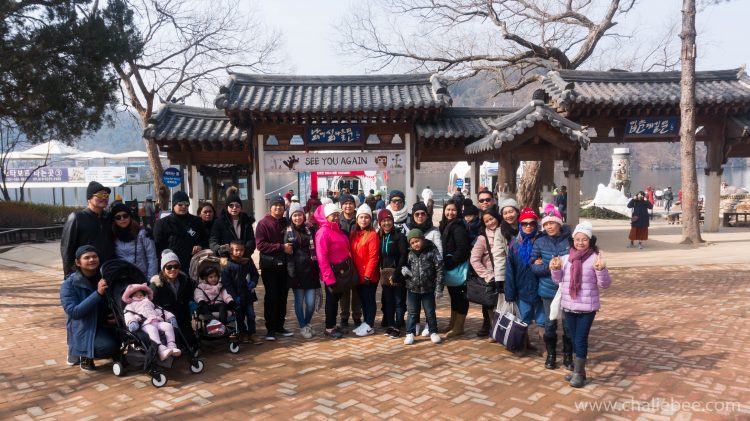 Our next stop was Nami Island. I will never forget this place. It was around 2007 when I was hooked up to Koreanovelas because of my aunt (whom I travelled together here at this time). She really loves Koreanovelas and lend me all her DVDs. Nami Island became famous because of Winter Sonata (Endless Love 2). I really like that show and even before we went here, I watched it again and again. Indeed, it is really a very romantic place.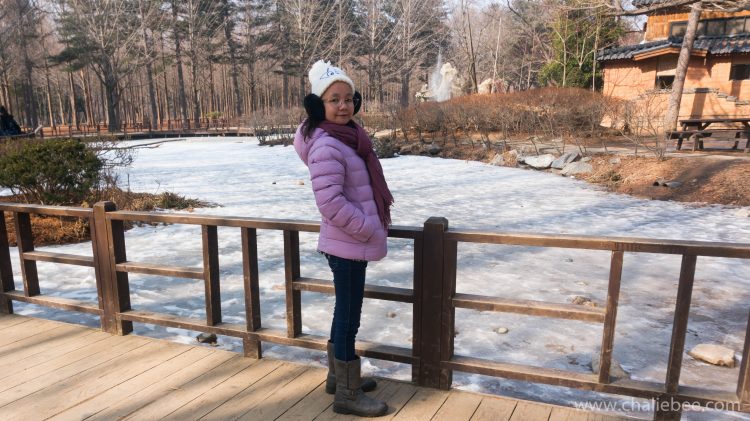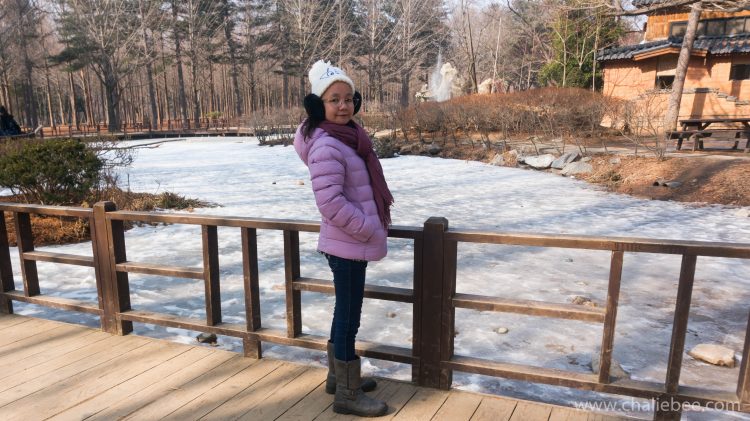 This is literally a small Island in Naminara Republic. Because it is very famous, there are a lot of people visited this place. You do not need to worry about visiting this place during winter because there's a lot of bonfires everywhere. You can relax near the bonfire while you keep yourself warm. It was here where I've seen a squirrel for the first time 🙂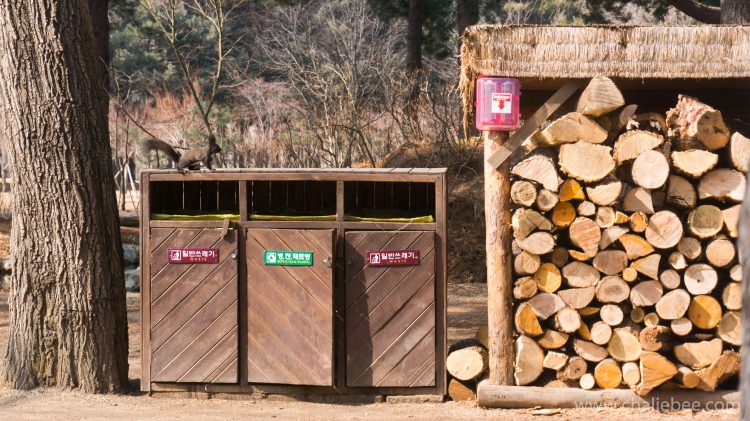 A lot of activities to enjoy here like biking, walking, strolling under the metasequoia tree, sight-seeing and food trip (since there are a lot of restaurants, cafes and street foods here). You can also enjoy art if you are into art because of different kinds of sculpture and there is even a clay art gallery. I recommend visiting this place if you are travelling to Korea. In reaching this Island, you need to ride a Ferry with a minimal cost.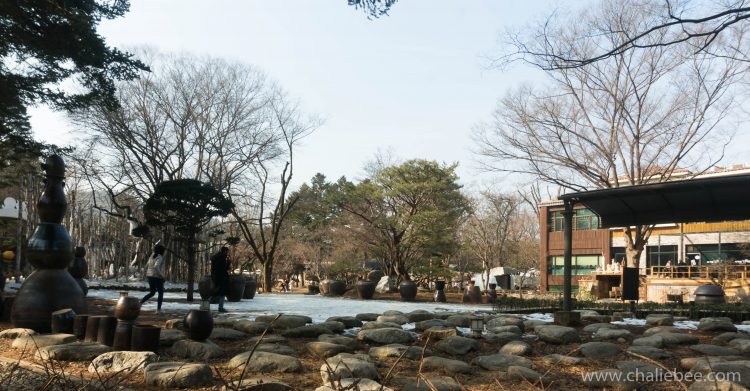 3) Everland Theme Park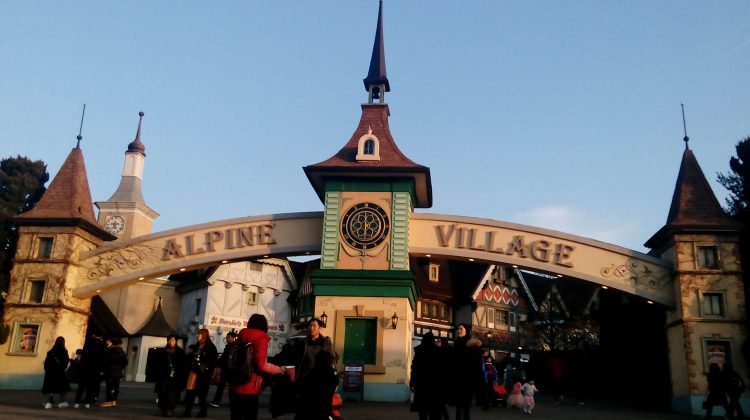 The most unforgettable place for me during our tour in Korea is Everland Theme Park. It is my happy-pill and at the same time, the most nightmarish experience that I feel as a tourist. I will tell that amazing story in a separate post since it is the best experience for me and Everland is just so wonderful.
There are a lot of things to do and enjoy in Everland. 1 day is not enough because they do have a theme park, different types of restaurants (American, Chinese, European, Korean resto), a lot of Korean street foods and delicacies, too much cute stuff to buy and most of all, it is a theme park, arcade games and safari all in one! It is best for all seasons (summer, winter, fall or spring). It is indeed the happiest place in South Korea.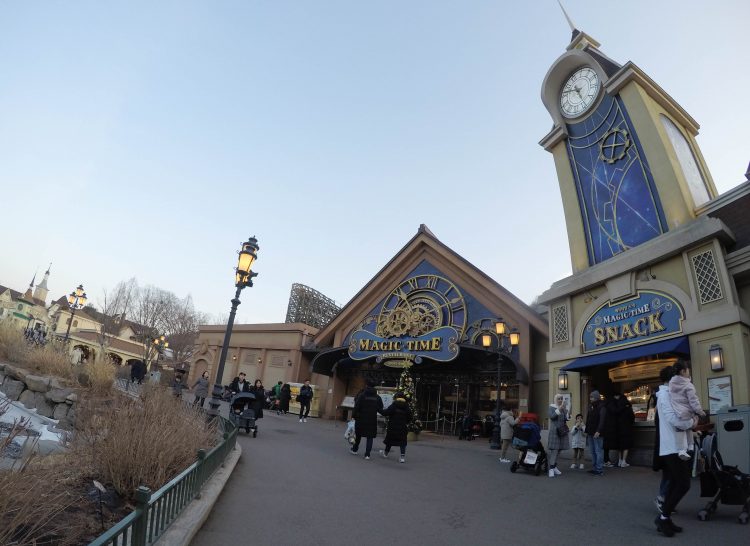 A map will be provided to you upon entering the theme park.
4) Korea House (Seaweed Museum)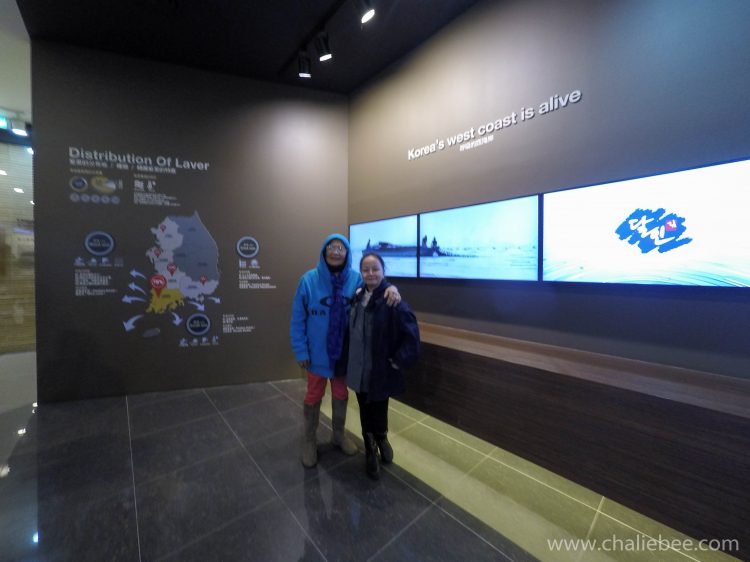 I honestly don't know where this located. We avail a tour package from a travel agency in Cebu and so I do not know what is the exact address. We were picked up at the airport by a tourist bus so I do not know how to commute as well (except at the City center).
It was a nice experience as well. Though it is not necessary for a traveller, it was a great experience. We were like on a field trip or an educational tour. They show us the history, how it was made from raw until it is sealed in plastics and sell it all over the world. The fun thing to do here is you are able to taste unlimited seaweeds with different flavours and different preparations.
5) Korea Cultural Center (Making Kimchi and Hanbok pictorial)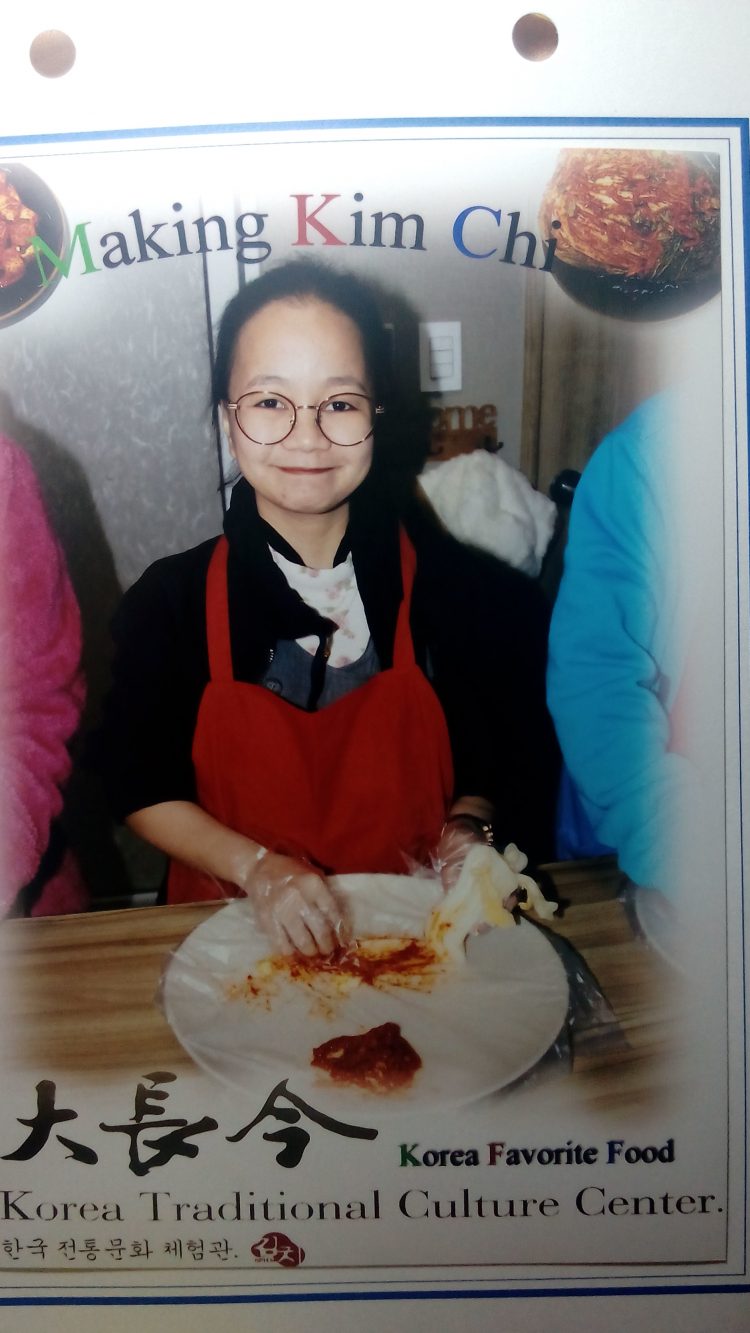 I do not know where this is located as well but it was one of the best and unique experience I had tried. I was able to prepare Kimchi with ready-made ingredients and on the rooftop of the building, there is a hanbok rental and pictorial. So we were able to wear a hanbok, made kimchi plus pictorial. A great experience for a tourist like me.
6) Namsan/N-Seoul Tower (Love lock and Teddy bear museum)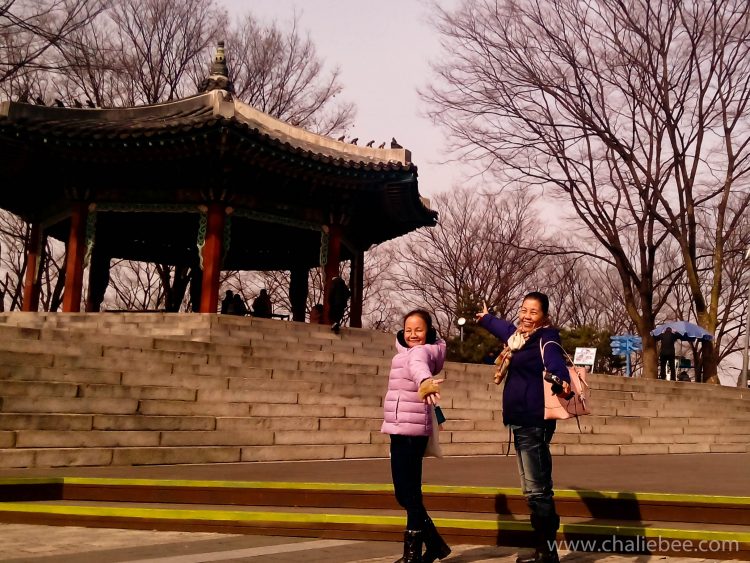 The best place that I like most during our tour was this place. Maybe because I really love overlooking view. When I came here, I feel the serene, calmness and coldness of the place plus when I saw the view, it was really amazing! I feel so emotional this time because of the view and weather. It was a great feeling!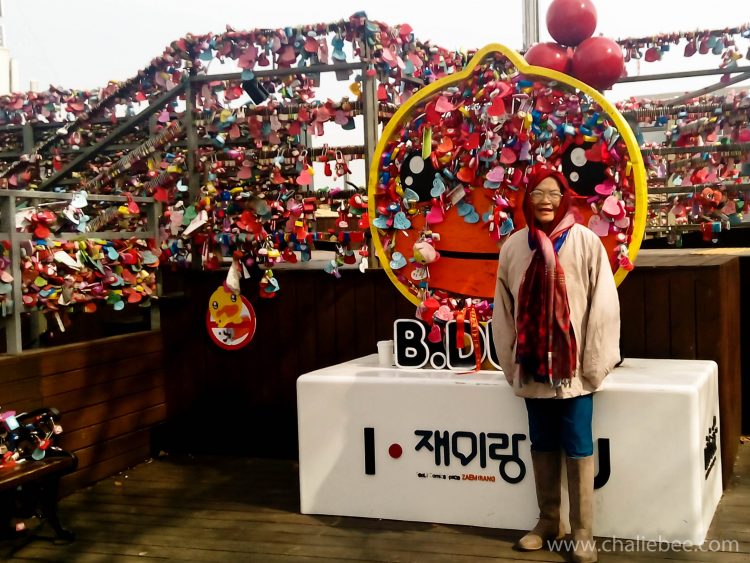 The tourism did great when they put a lock key here because I feel it is really romantic to be here. Not just for your boyfriend/girlfriend but for the whole family and even just for your own self. I cannot explain what I feel but just amazing grace to be here with my loved ones as well.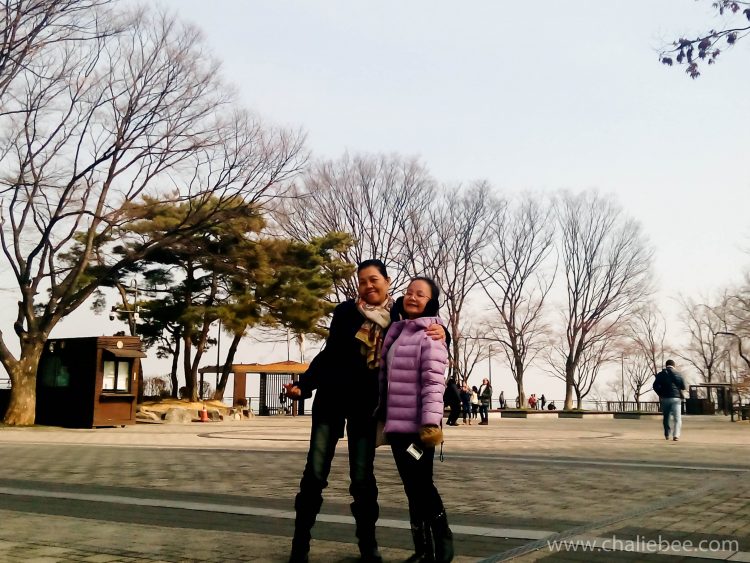 When you go to the top, there is a teddy bear museum, caricature and of course the very famous love keys. It was awesome! We rode the cable car in coming and going back from Namsan Seoul Tower. It was a wonderful experience as well, especially for my 2 aunts. It was here where Boys Over Flowers shoot some of their scenes (when Jandy and Jun Pyo had a date). Overlooking the whole Seoul 🙂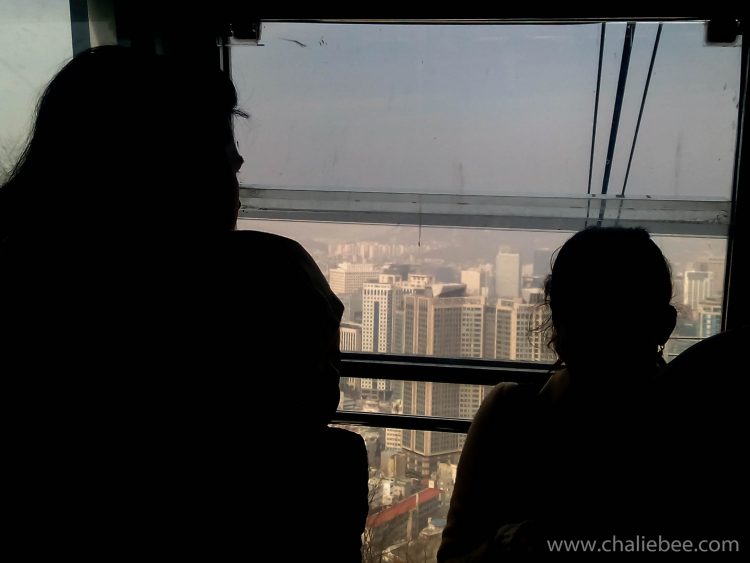 7) Cheonggyecheon Stream
Cheonggyecheon stream is a 10.9-kilometre stream in the middle of the City. The idea was started during the Joseon Dynasty when King Taejong wants to build a drainage system in Seoul. As time passed by, it is developed as a modern public recreation. There are a lot of street foods here and it is very near to some tourist spots in the City like Insadong, City Hall, Seoul Public Library and a lot more.
8) Namdaemun Market
Namdaemun market is one of the famous and traditional markets in Seoul. It is where you can buy cheap stuff for pasalubong. Different kinds of stuff can be found here and there is a stationary alley (stuff for arts and all other cute stationeries). I just passed by here since it was late in the evening already when I walked around this area. But better to visit here before 8PM.
9) Yangji Pine Ski Resort (Winter)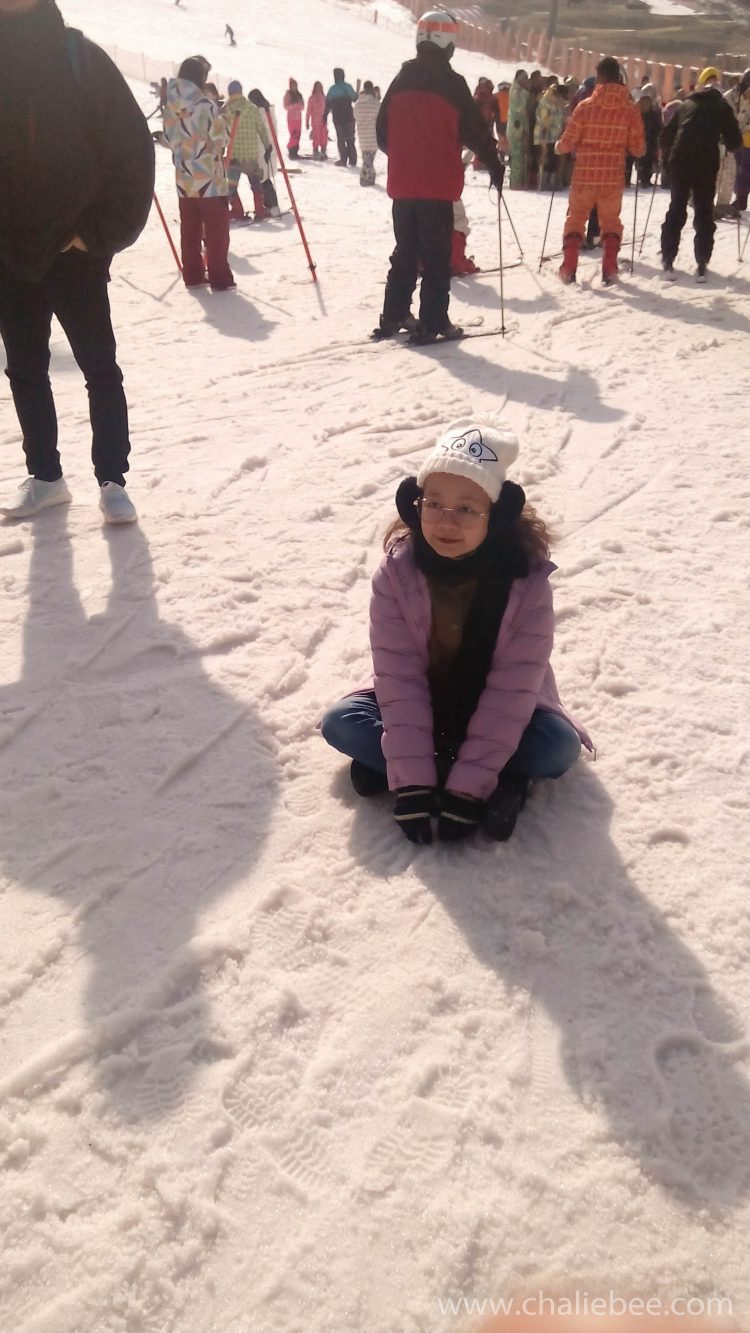 Location: 112, Nampyeong-ro, Yangji-myeon, Cheoin-gu, Yongin-si, Gyeonggi-do
Since this is a ski resort, you can visit this during winter. Well, you can still visit this place in another season since they are open for golfing (in other season and for skiing during winter). Bucket list #1 achieved because I was able to enjoy the snow and snow activities.




Mountain stats
Highest lifted point: 420m
Lowest skiable point: 220m
Vertical drop: 200m
Lifts: 6
Runs: 8
Longest run: 1.5km ('Challenge Plus')
Terrain park: no
Halfpipe: no
10) DIY Strawberry Farm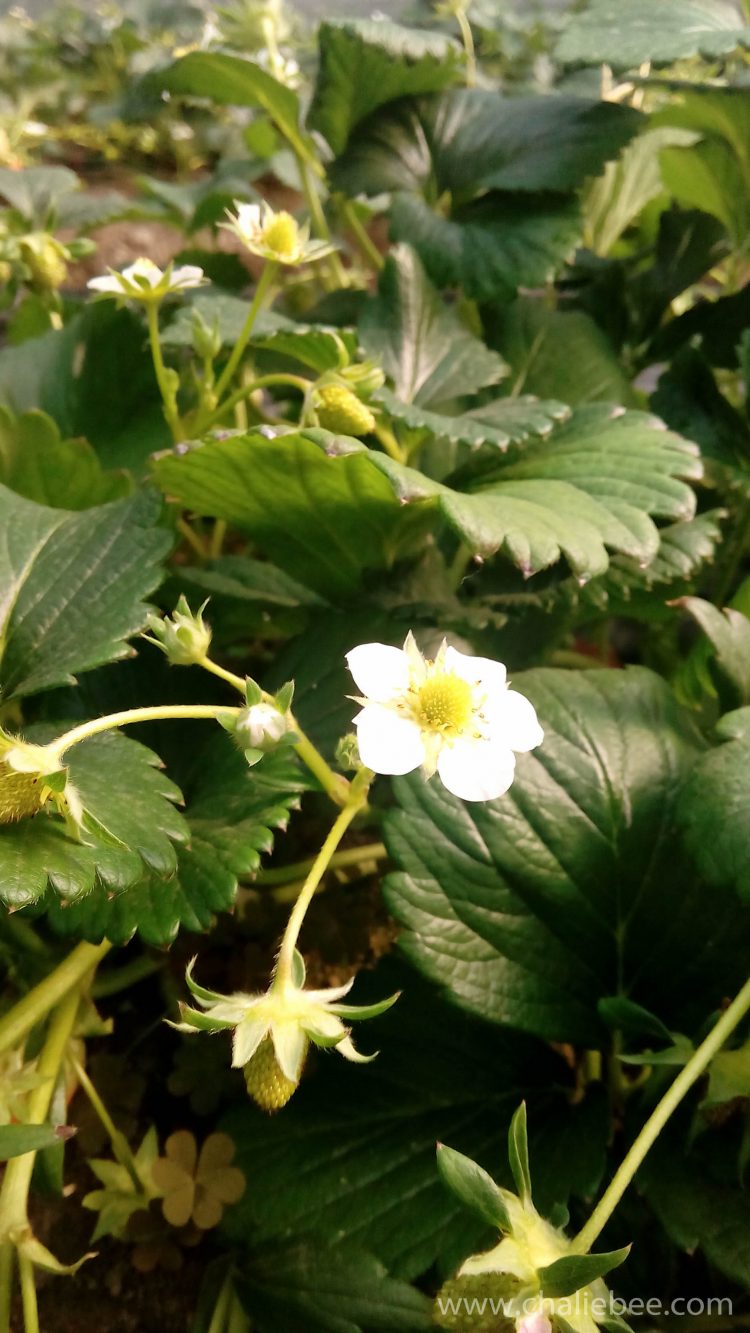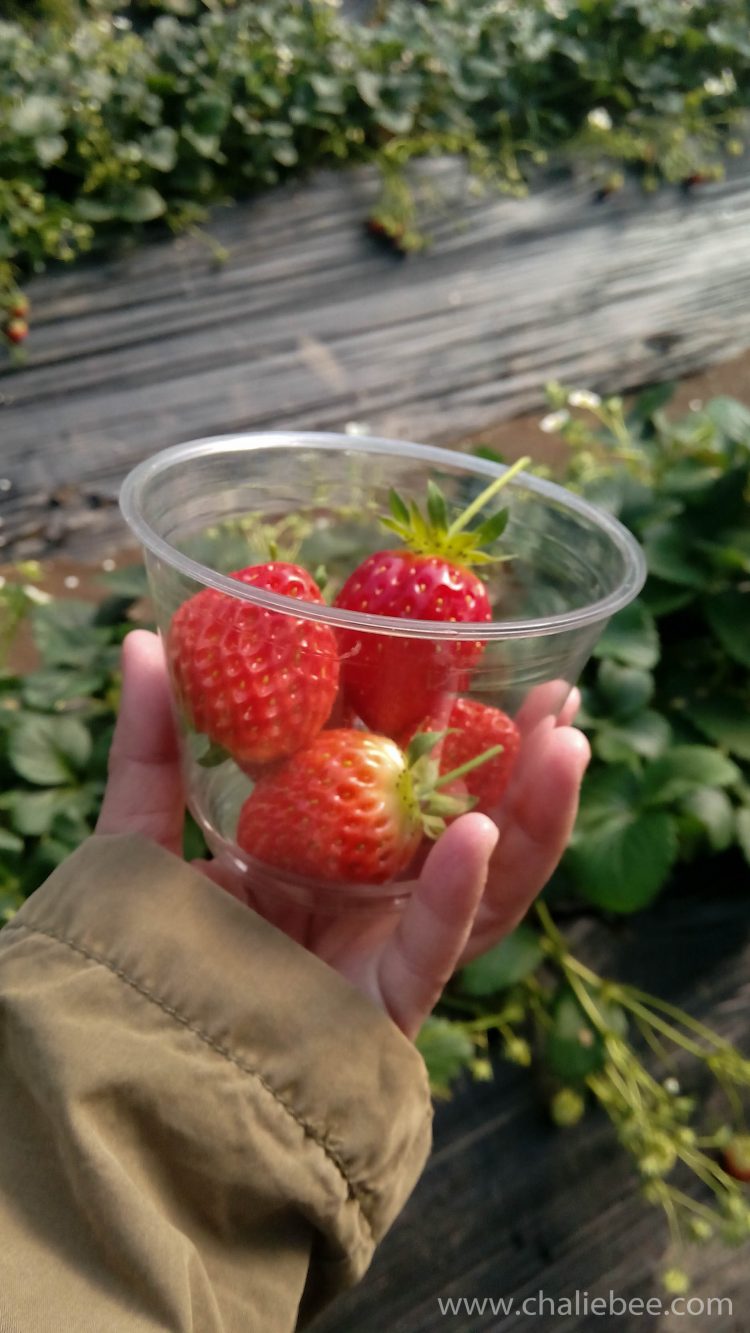 Another unique experience that I tried here was strawberry picking. It was fun and very rare to experience. I enjoyed the activities well plus I was able to taste their very sweet strawberries and other fresh fruits in four season farm.

11) Gyeongbokgung Palace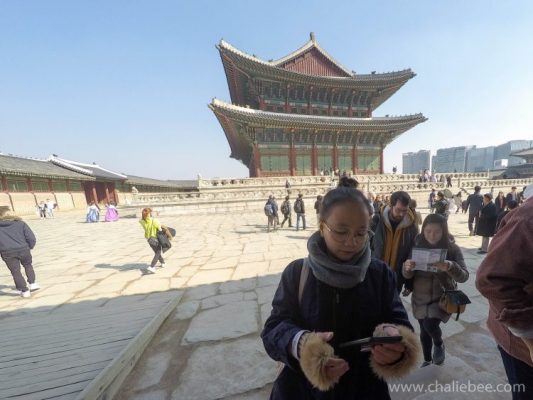 If you are a fan of Koreanovela like Queen Seon Deok, Jewel in the Palace, The Legend, Hwang Jinyi and the very famous and one of my favourite Love in the Moonlight, you will really enjoy this place.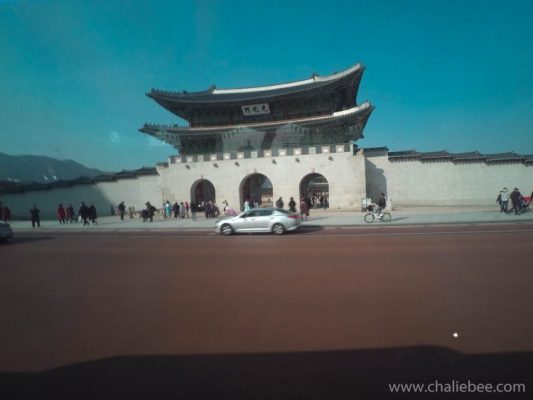 Gwanghwamun (Hangul: 광화문; Hanja: 光化門) is the main and largest gate of Gyeongbokgung Palace, in Jongno-gu, Seoul, South Korea. It is located at a three-way intersection at the northern end of Sejongno. As a landmark and symbol of Seoul's long history as the capital city during the Joseon Dynasty, the gate has gone through multiple periods of destruction and disrepair. Restoration work on the gate was finished and it was opened to the public on August 15, 2010.[1] – from Wikipedia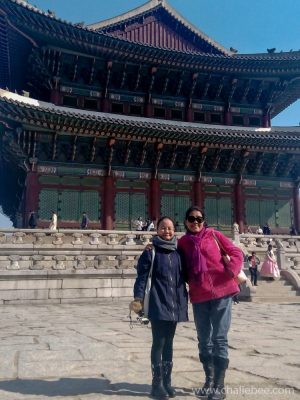 12) Namsangol Hanok Village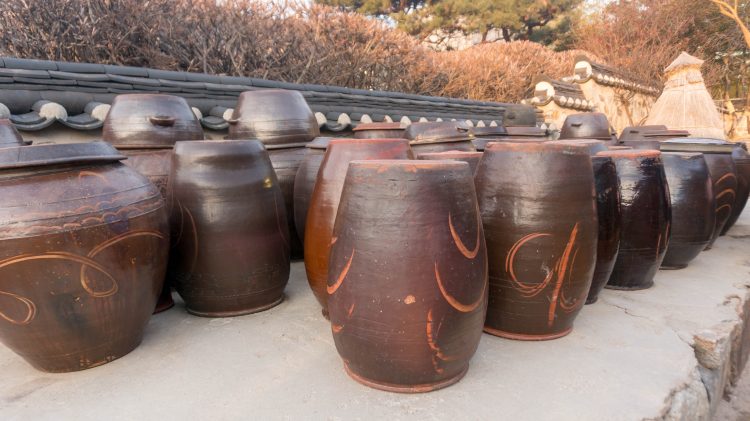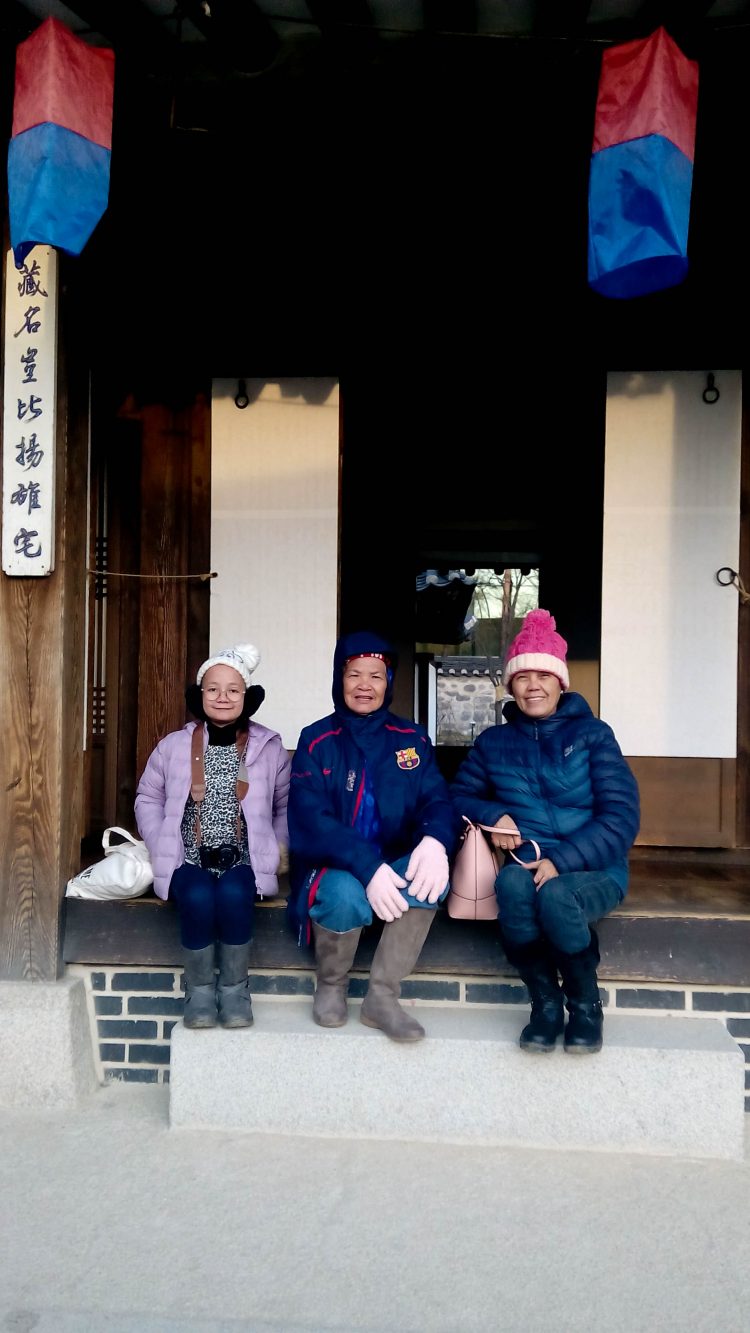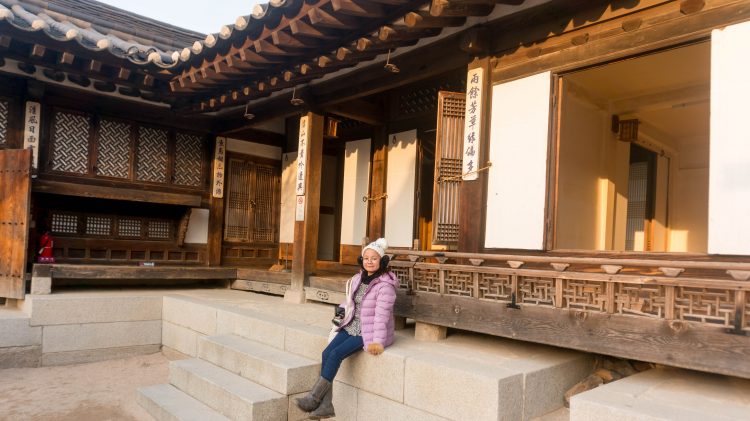 Namsangol Hanok Village also known as Village of the Traditional Houses in Namsan Valley is a Korean Traditional Village. It is very traditional wherein Women and Men were separated. They have separate houses even though they were families (how sad would that be?). It was here that I got to know how conservative and strict Koreans are (even at present). PDA is very rare in Korea.
13) Myeongdong Shopping Center
Myeongdong Market
Location: 83-9 Myeong-dong, Jung-gu, Seoul, South Korea
Open: Daily from 10am to 10.30pm (hours vary by store)




If you are a fan of Korean Skin Care Routine, never miss visiting this place. I am not into make-ups or other girl products but I was tempted to buy a lip tint here worth P200.00 (if converted to Piso) and when I checked the price back in Cebu, it's P500+ and I also bought the cutest doll that I had found here for only 5,000 won (or P200.00).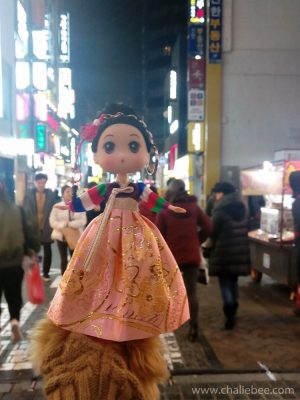 There are a lot of cheap girl products here as well as street foods. Be careful when you try to exchange your money because most of the money changer that we had visited only exchange US dollars and they were not accepting philippine money 🙁 Though there is one money changer who exchanges Philippine money.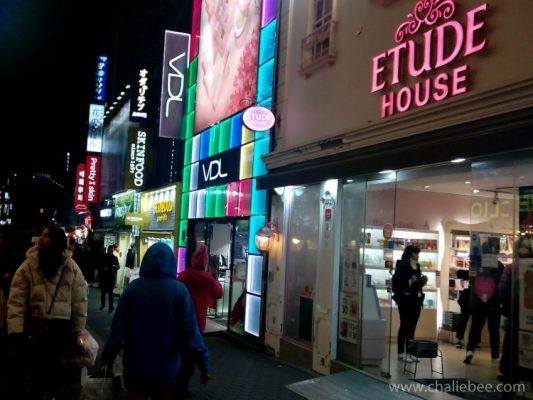 Myeongdong is home of department stores, shopping malls and street foods. It was here where I first tasted chestnuts.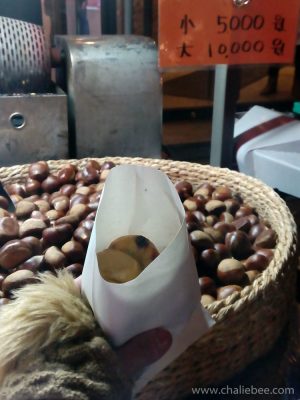 Shinsegae Duty-Free is located across Myeongdong Market (it is part of Myeongdong already, I think). Inside Shinsegae, there is a line store that sells cute stuff from the very famous line app. It is here where I bought the cheapest and delicious chocolates as well. They are not that expensive unlike in Mall prices. You should try to visit this place as well for a fun shopping experience.

14) Local Supermarket
This is located in Incheon (from the airport, we had our breakfast here and on the other floors, it is where the supermarket located). There is also a local supermarket near Everland Resort. They sell cute stuffs good for pasalubong.
15) Walking Distance (Seoullo 7017, Itaewon, Namdaemun/Sungnyemun Gate, Dongdaemun, Insadong, Myeongdong)
Lastly, I would recommend to take a walk around Seoul. It was very relaxing and one of a kind experience to witness the busy streets and busy life of the locals. You will find a lot of things that you cannot find in the movies or Koreanovela. Not all can talk English so better understand them since you are a foreigner in their Country. Try talk using body language or look for some younger generations/students whom you can talk to.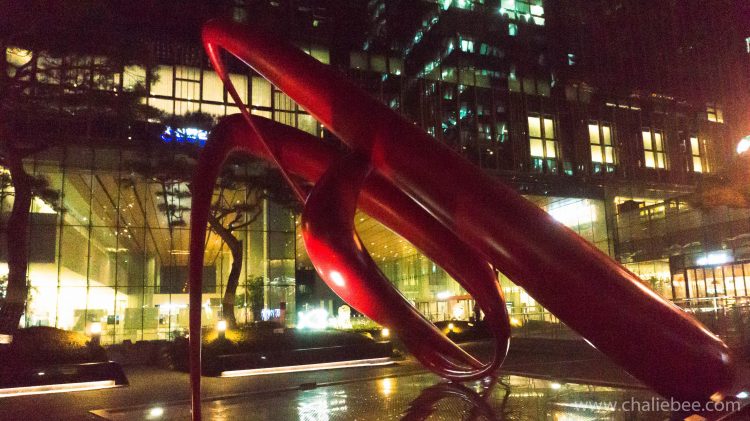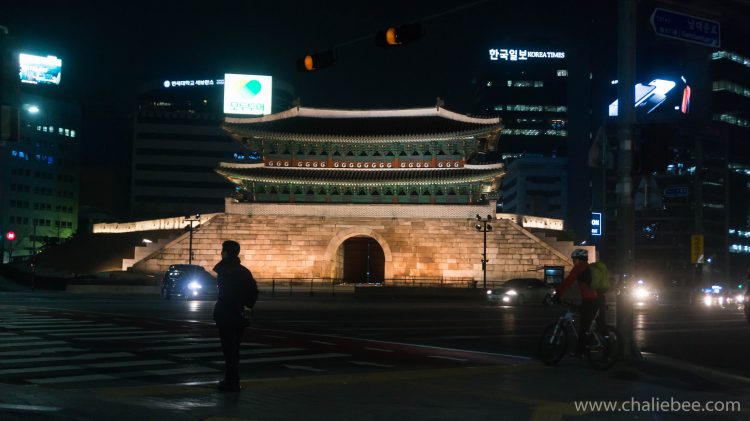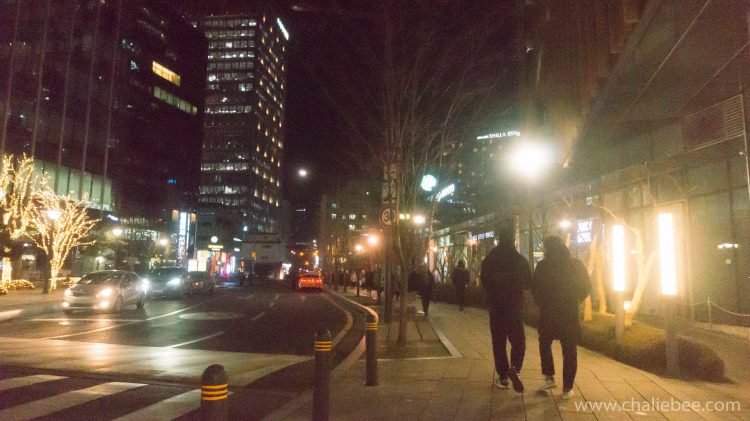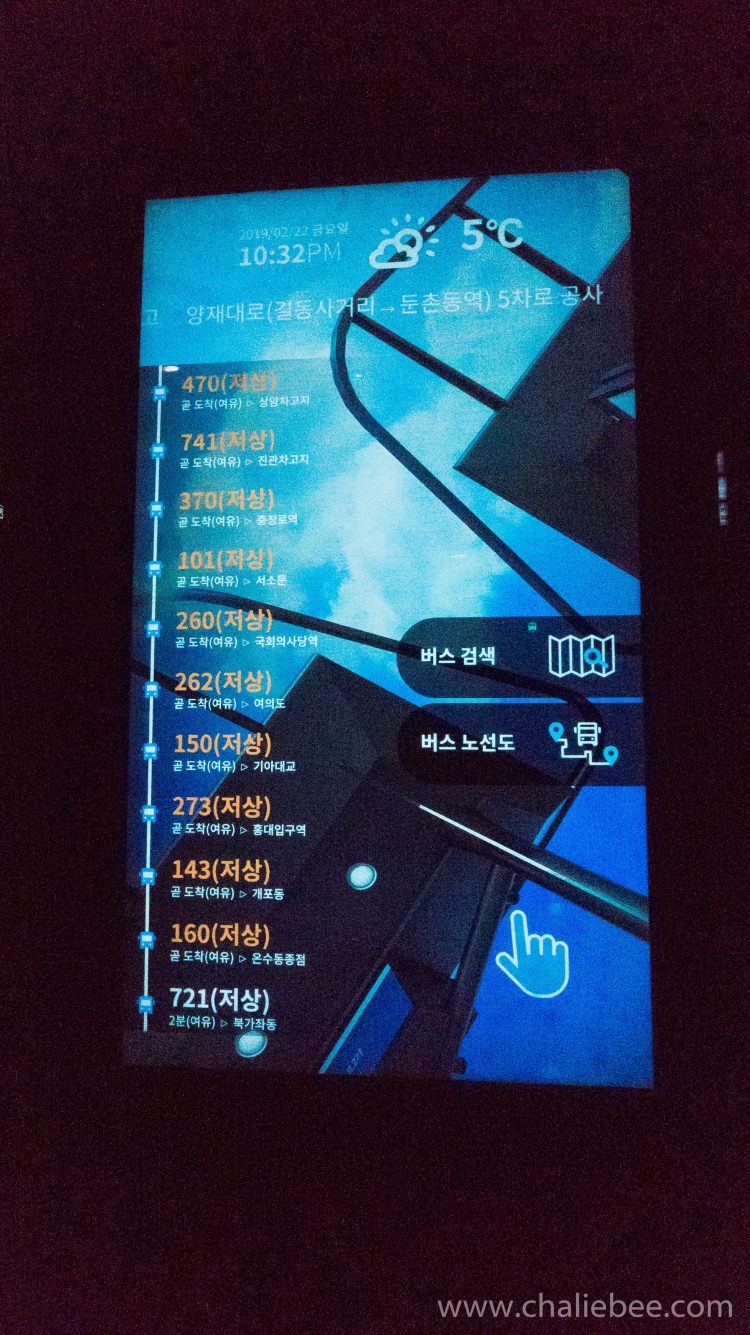 If you have a dream, never stop praying for it. God will answer our prayers. Though it will take a long time but it is worth the wait. While waiting, little did we know that he is molding our character already. God's timeline is different from ours.
Just wait patiently for the Lord.
I've waited for this vacation since Highschool, around 2007 and I was able to achieve this on February 2019. It means that I waited for 12 years. If it happened to me, it will happen to you also. Just trust God. If it will not happen to you then it means that God has a wonderful plan than this. Just enjoy the timeline of waiting and trust God in everything.